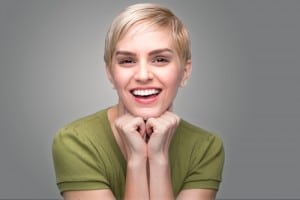 A beautiful smile is marked by straight, white, and symmetrical teeth. Is your smile lacking in any of these areas? Thin sheets of porcelain called porcelain veneers can be permanently cemented to your teeth to correct discoloration, chips, breaks, crookedness, and other cosmetic and functional concerns. Dr. Tomazin can give your smile a makeover by using porcelain veneers as a permanent and easy solution to improve the aesthetics and function of your teeth.
Reason #1: Treatment Is Quick and Easy
Getting porcelain veneers is nothing like those dental treatments that take months or years to produce real results. In just one or two office visits, your veneers can be permanently attached to your teeth for a quick and easy solution with immediate results.
Reason #2: Get Whiter, Natural-looking Teeth
Teeth whitening treatments aren't for everyone. If you can't receive whitening treatments or if whitening treatments haven't produced the results you were hoping for, veneers can give you white teeth here and now. They're also stain-resistant and blend naturally with the rest of your teeth.
Reason #3: Fix Crooked or Misshapen Teeth
If you have crooked or misshapen teeth, you don't have to spend months undergoing orthodontic treatments. Veneers can be placed over your teeth to improve their appearance and give you a straighter smile with just two treatments.
Reason #4: Hide Chips, Cracks, or Breaks
Chipped, cracked, and broken teeth can easily be disguised with porcelain veneers. Veneers can even correct problems with chewing or speech impediments caused by broken teeth.
Reason #5: Improve Your Bite
Believe it or not, teeth straightening treatments aren't the only way to improve your bite. Porcelain veneers can improve your bite as well and help your teeth align properly for improved form, function, and appearance.
Reason #6: Close Gaps
Do you have gaps between your teeth? Veneers can be made slightly wider than your natural tooth to erase the gap so that your teeth are flush together. They can even hide significant gaps caused by missing teeth.
Reason #7: Treatment Is Painless
Getting porcelain veneers is a simple and painless treatment. Unlike other dental treatments that can cause substantial oral pain, veneers are quickly and easily attached to the teeth in a painless process.
Reason #8: They're Incredibly Durable
Veneers are a long-lasting solution and are incredibly durable. Getting porcelain veneers on your teeth can protect your teeth and your smile for many years.
Reason #9: A Versatile and Multipurpose Solution
Porcelain veneers are the only dental treatment that can fix discoloration, crookedness, and tooth shape all at once. Instead of having to undergo multiple different treatments, you can receive veneers to resolve your concerns with just one or two office appointments.
Dr. Chad Tomazin can use porcelain dental veneers to transform your smile and your appearance. To learn more, request your appointment with Dr. Tomazin by calling (951) 686-3666 or by filling out our online contact form today.