How Does At-Home Whitening Compare to In-Office Whitening?
Posted July 24, 2018 in Teeth Whitening
We all desire a whiter and brighter smile. Unfortunately, heredity, lifestyle choices, and common drinks, such as coffee, tea, soda, and wine, all leave residue on our teeth and diminish the clean color we strive for. Advertisements for teeth whitening products are frequent, and all of them promise your brightest smile yet; however, how well do these products work? When given a choice between in-office teeth whitening and at-home teeth whitening, many patients would likely choose the at-home products, as they can be used on a patient's own time and in the comfort of their own home. But are the results comparable to the reliable in-office treatment provided by your dentist?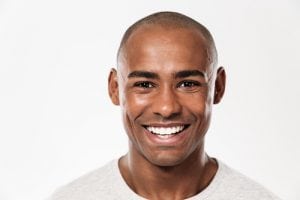 Types of Teeth Whitening
Teeth discoloration often leads to diminished confidence and even hiding your smile from others. Instead of feeling like you need to shy away, consider whitening your teeth with either at-home or in-office whitening procedures.
In-office whitening with Dr. Tomazin involves the Venus White® Max Whitening System. This product is a chemically activated whitening gel that provides substantial results in a single visit. With this treatment, Dr. Tomazin includes extra whitening syringes and custom trays for you to take home so that you can further enhance your teeth whitening experience.
At-home whitening consists of whitening trays that provide gradual whitening results. These custom-fitted systems are easy to use, comfortable, and can even be worn overnight for hassle-free whitening. Results often become apparent in as little as two weeks.
The Final Verdict
Fortunately, with all of the improvements to teeth whitening that have been made over the years, there are now many options for achieving the bright and white smile you desire. These options include both in-office and at-home whitening, and truthfully, neither one is better than the other. It comes down to personal preference. When teeth whitening is performed in-office with a trained dentist, you know that the job will be done correctly. In the office, you can learn the proper way to apply and wear the trays that you take home and ask any questions that you may have.
At-home teeth whitening may not have the same hands-on approach that in-office whitening does; however, these systems have improved so much that you can attain the same level of improvement as in-office treatments without ever having to leave your home. You can wear the trays when you are watching TV, checking emails, or finishing up household chores. Whatever you choose for your treatment, know that your teeth will be in good hands and that a brighter smile is in your future.
Achieving a whiter smile is attainable. To get more information on both in-office and at-home teeth whitening treatments, call Dr. Tomazin today at (951) 686-3666.