What Are the Best Ways To Keep a Bright Smile?
Posted July 15, 2019 in Teeth Whitening
Keeping your teeth clean is essential to dental health and the simplest way to keep that smile sparkling. But age, certain foods, and your lifestyle eventually cause teeth to start to yellow or stain no matter how strict your hygiene habits are.
Yellowed or stained teeth can drastically affect a person's confidence, and more people are seeking ways to reverse the discoloring. When asked what they'd most improve about their smile, most people say they'd like whiter teeth, according to the American Association of Orthodontists.
For some, stains or yellowing can be so detrimental they stop smiling out of embarrassment. There are several methods offered by Dr. Tomazin that all restore brightness and help repair other signs of damage to keep that smile shining bright.
What Causes Teeth to Yellow?
Enamel works as our teeth's front-line defense against damage, absorbing most of what the teeth come into contact with.
Teeth begin to yellow due to:
Food and Drink: Foods or beverages with dark pigments can stain teeth.
Smoking: Tobacco contains several chemicals, and the smoke itself causes teeth to yellow.
Age: Brushing and everyday wear and tear causes enamel to thin and look dull.
Medications: Certain medications can darken teeth.
Injury: Some injuries can be bad enough to chip or otherwise damage tooth enamel.
Teeth Whitening: How Does It Work?
Teeth whitening is one of the least invasive ways to brighten a smile and can remove years of stains or yellowing. Dr. Tomazin offers patients three different options: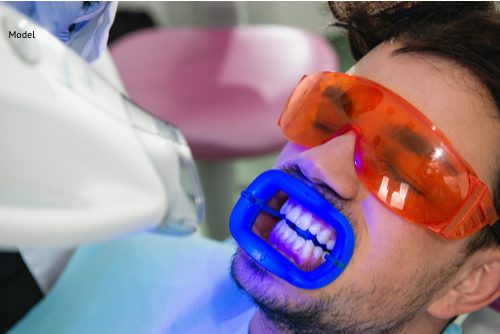 Bleaching
This process uses hydrogen peroxide and carbamide peroxide to break down stains. Dr. Tomazin will use a protective gel or rubber shield to protect the gums and mouth before applying bleach to the teeth.
At-Home Whitening
This process also uses bleach, via whitening strips or special trays, to remove stains and yellowing. Patients are given the option of a 22 percent bleach or a 35 percent bleach solution.
The 22 percent bleach is used for an hour twice a day and overnight. The 35 percent bleach may only be used for 15 minutes twice a day or 30 minutes once a day. The entire treatment usually takes about two weeks.
In-Office Whitening
This process uses the Venus White® Max Whitening System, made with hydrogen peroxide and potassium nitrate to help ease the tooth sensitivity that often happens after whitening treatments. The in-office process takes about two hours and about two weeks of at-home treatments with special bleach syringes and trays.
Bonding, Crowns, and Veneers: How Do They Brighten Smiles?
Clearing up years of stains can sometimes be harder than it seems. Enamel doesn't grow back, so any damage done is permanent and must be repaired through other means.
Dr. Tomazin offers bonding, porcelain crowns and veneers, and same-day crowns for patients who need to repair damage like cracks or chips on their teeth or repair a tooth that has grown discolored due to decay.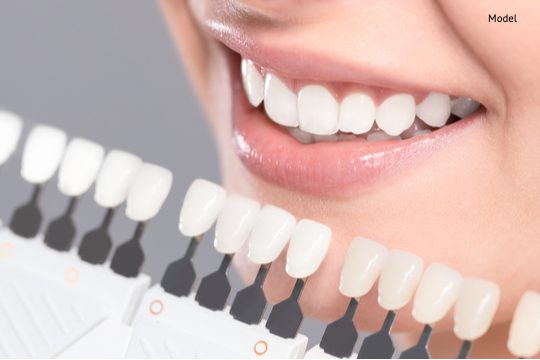 Bonding
With bonding, Dr. Tomazin uses a resin (durable plastic) material applied to the tooth. The material is color-matched to the tooth and hardened under a special light to "bond" the material to the tooth, restoring its appearance.
Dr. Tomazin can perform direct composite bonding, where the tooth's surface is first roughened with an acid solution before the resin is applied, molded, and hardened. Adhesive bonding is used together with other procedures, like veneers.
Bonding is quick and painless—most procedures are able to be completed within one office visit—and leaves patients with very natural-looking results that can last up to five years.
Same-Day Crowns
Dr. Tomazin uses CEREC® restorations to offer patients beautiful, natural-looking crowns that are crafted and placed all in the same office visit, avoiding a more cumbersome procedure.
CEREC® uses 3D technology and specialized cameras to take precise, digital impressions of each tooth. These images allow Dr. Tomazin to design the crown and get it milled in-office, typically within 15 to 20 minutes.
Same-day crowns are made with a unique type of porcelain that's superior to the traditional material. This porcelain is less abrasive and wears down at the same rate as the rest of your enamel, ensuring results are as natural as possible.
Patients can walk in for a visit with Dr. Tomazin and walk out with brand-new crowns that last between 10 to 15 years. No temporary crowns are needed with same-day crowns.
Porcelain Crowns and Veneers
The gold standard for repairing damaged teeth, porcelain crowns and veneers are long-lasting and designed to blend in seamlessly for a beautifully enhanced yet natural-looking smile.
Crowns and veneers are non-porous and resistant to stains, which means teeth stay brighter for longer. Veneers completely cover the front surface of the tooth, a permanent way to repair heavily damaged or stained teeth.
Impressions of the teeth are made before the crowns and veneers are specially fabricated. Patients may need to use temporary crowns in the meantime. Dr. Tomazin ensures crowns and veneers are color-matched to blend in with the rest of your smile.
Application is generally painless. A thin layer of enamel is removed before the crown or veneer is placed over the needed tooth or teeth. They typically take about two office visits to complete.
Crowns and veneers can last up to 15 years without replacement.
Are you looking for ways to get a brighter smile? Schedule a consultation with Dr. Tomazin by calling 951-686-3666.